The Chattahoochee-Oconee National Forests span nearly 900,000 acres across 26 counties in northern and central Georgia. The region provides some of the state's most outstanding outdoor recreation opportunities and natural wonders, including Georgia's tallest mountain (Brasstown Bald, at 4,784 feet), 75 miles of the Appalachian Trail and thousands of miles of clear-flowing streams, 140 miles of which support wild brook trout populations
Chatahoochee National Forest
A chance to pursue the southernmost populations of native brook trout.
"Many people are surprised to learn that we have 4,000 miles of trout streams in Georgia," Charlie Breithaupt, a board of director for the Rabun Chapter of Trout Unlimited. "95 percent of them are on public lands, and most of these are in the Chattahoochee. There's a great variety of water. Many are what we call 'bent creeks,' as they're overgrown and you're bent over all day as you fish them. Some are considerably larger and near a road, so you can park and scramble down to fish. Many of the smaller streams up high have native brookies; a good many of the other are stocked. These put and take fisheries are very popular with the public."
A favorite for many anglers is the Chattooga, which provided a backdrop in the movie "Deliverance," and has the distinction of being the first river east of the Mississippi to receive a "Wild & Scenic" designation.
"The Chattooga is a very good fishery, and flows through a gorgeous piece of land," Breithaupt continued. "It's crossed by roads in several places, but much of it is wild, and you have to hike in." Native brookies can be found in the cooler tributaries in the upper sections of the river; below the Burrells Ford Bridge, you'll find stocked browns and rainbows.
Support public lands and look good doing it!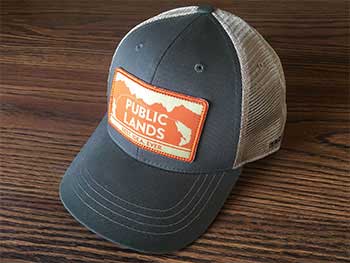 Check with a local fly shop before you head out. "They'll know the odds of this bug or that being out, and what time of day to be on the water," Breithaupt added. "Unicoi Outfitters in the town of Helen is one good source."
Engaging the next generation of conservation-minded anglers is essential for the long-term well-being of our rivers. Since 2004, the Georgia Council of Trout Unlimited has conducted Trout Camp, introducing 24 12-15 year-old boys and girls to fly-fishing at Rabun Gap Nacoochee School. Over a week's stay, kids learn fly-casting, basic entomology, participate in stream restoration projects…and of course, catch, handle and release fish. To date, more than 400 children have attended Trout Camp.
Want to give back to the fisheries you love? Connect with your local TU chapter and help with conservation projects in your backyard, youth education and lots of other rewarding ways to ensure a bright future for our coldwater fisheries.