All photos by Will Crooks.
The Sumter National Forest covers more than 370,000 acres spread over three non-contiguous ranger districts in South Carolina. The 85,000-acre Andrew Pickens Range District – in Oconee County in the state's mountainous northwest corner–is home to most of the Palmetto State's trout fisheries, including the Chattooga, the first designated "Wild and Scenic" river east of the Mississippi.
A chance to fish the Green Drake spinner fall on the Chattooga.
"The Chattooga is a real gem, with no dams and no houses," Jason Long, a member of the Mountain Bridge Chapter of Trout Unlimited. "Once you reach it, you're in the wild Appalachians; hike 20 or 30 minutes, and you'll have solitude. In the upper reaches of the Chattooga, there are some wild trout. By the time you reach South Carolina, it's delayed harvest water [meaning the river is stocked with catch and release regulations in place part of the year]. The Chauga – another freestone river nearby in the Sumter – is also delayed harvest."
Of the Chattooga's many hatches (which include Little Yellow Sallies, Red Quills, Sulphurs, and Light Cahills), Green Drakes are a favorite.
"We call it the 'Dark Thirty Adventure,'" Long continued. "It happens in May. We'll meet at 6:30 and hike into Ellicott's Rock, near the border of Georgia, South Carolina and North Carolina. At dusk, the spinner fall comes on; the bodies are white, and the browns are on them. Coffin fly imitations are effective."
The best times to fish the Chattooga and Chauga are mid-spring and fall.
The Chattooga is a real gem, with no dams and no houses,
Jason Long
TU was a charter member of the Chattooga Coalition, a committee of the state and federal agencies responsible for managing the river's trout fishery. The coalition helped establish a wild fish management policy on the upper Chattooga, and regularly monitors the river's health. The Chattooga River Chapter helped pioneer the expansion of Southern Appalachian brook trout in a number of streams in the Sumter where they historically thrived, with assistance from the Mountain Bridge Chapter. Recently, the Chattooga River and Mountain Bridge Chapters undertook a comprehensive survey of more than 40 culverts in the forest and is prioritizing repair and replacement. TU has recently partnered with the USFS to monitor water quality and temperature on the Chauga River.
Support public lands and look good doing it!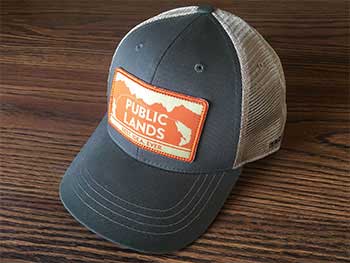 Recent years have seen a renewed interest to do away with public lands like the Sumter National Forest. These efforts have come in many forms, be they hostile takeovers or attempts to quietly pass legislation that would hand over your lands over to individual states to own or manage. Take action today to tell Congress you want to keep public lands in public hands and to work toward real solution that solve land management challenges.